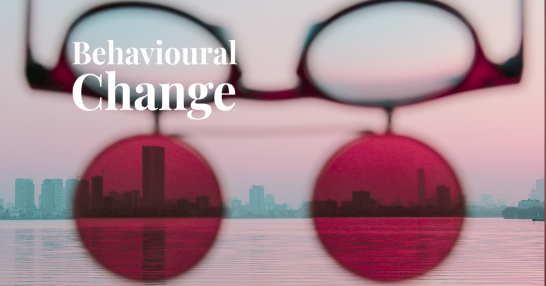 Share this article
What is Behavioural Change and can it really impact an organisation?
Before we answer this question, it is important to remember that behaviours are simply what we see people doing and what we hear people saying. It is these everyday behaviours that, in reality, define an organisation's culture; not the motto-sounding mantras on the wall or the politically correct blurb in the Employee Handbook.
Behavioural Change is a bottom-up form of change management that uses the mechanisms of social copying of defined behaviours. It can almost be seen as the yin to the yang of traditional change management that works top-down through formal hierarchies. Behavioural Change uses the power of social movement to create 'cultural' change from the heart of the organisation – something that is more durable than any top-down townhall communication!
Top-down change management approach
If you're looking to create change using a bottom-up approach it's useful to explore a top-down change management approach first, looking at its pros and cons.
Top-down change management, also known as classical change leadership, is one of the most common forms of reorganising enterprises. But that doesn't mean it's the only solution for every business.
Characteristically, most organisations are hierarchical, with a board communicating major change decisions across the entire company. This is then perpetuated through a succession of C-suite executives and middle management layers until it finally filters down to staff levels. A typical game of "Chinese whispers" in some cases is the result. Everything is determined by upper management, and even when middle management joins decision-making processes, final decisions rest with the C-suite.
One of the advantages of this style of leadership is that goals and expectations are clear, and the organisation's strategy is linear and can be broken down into relevant units. But it can sometimes lend itself to micro-management and often morale can sink if employees don't feel their input is valued or even heard.
Often talent can be underrated in this environment and, if middle leadership is weak, there will be a gap in communicating up and down the organisation and the shop floor will understandably feel ignored or under-appreciated.
Bottom-up change management approach
This approach believes that 'two (or more) heads are better than one' and that the structure of an organisation can encourage collaboration and autonomy within and between layers. Everyone within the organisation participates in some way to leadership, having a say in how goals are accomplished (not the goals themselves) and the objectives of the business can be achieved. Dialogue between organisational units and between hierarchies is encouraged and leaders at all levels have their ear to the ground regarding the needs and ideas of both customers and teams alike. It demands more a backseat type of leadership where the focus is on the autonomy of the team and top-down measures support and foster that energy and autonomy. For traditional leaders in a classical organisation, this approach sounds utopian and idealistic!
So, how can you change from top-down to bottom-up?
Over time, it is possible to move your organisation from pure top-down to more bottom-up by implementing Behavioural Change that taps into the energy and enthusiasm of the shop floor.
Behavioural Change consultancy and coaching at CLP goes hand-in-hand with formal top-down change and focuses on three phases:
Discovery – we uncover core behaviours required within an organisation, develop the goals and vision with the initiative's sponsors, identify those to be involved and responsible for the change, and how other stakeholders are impacted in both formal and informal networks.
Development & Engagement – with anonymous peer-to-peer-nomination and informal networking, we identify individuals who are willing to help. We train these volunteers on how to role model the new set of core behaviours in their daily business.
Sustainability – in this phase, once the behaviours are already running in the system, CLP focuses on maintaining the momentum of the change initiative in the medium term and iterating any required adaptations with the core change team in a paced handover of responsibility.
We would recommend this approach to HR and LD specialists, Change & OD professionals and leaders within organisations who know that nothing changes sustainably unless key behaviours change as well.

To learn more, please visit our Virtual or Onsite Behavioural Change Training course pages and start your own informal change 'movement' from the heart of your organisation.
Share this article