Share this article
TÜV Rheinland is an international, independent provider of more than 2,500 different services in the areas of testing, inspection and certification. Over 20,000 experts strive worldwide to ensure quality, safety and efficiency for a huge range of products and services that make our lives easier and safer.
Change, Leadership and Partners (CLP) support TÜV Rheinland's Mobility Business Stream in implementing and anchoring a cultural change initiative "Mobility in Action" in their German organisation. CLP is a trusted partner of TÜV Rheinland's top leaders in fostering collaboration and learning, facilitating communication, training leadership and initiating and supporting behavioural change from the heart of the organisation.
Our role as change agents is in developing a core change team to be autonomous in driving cultural change from the bottom up. Cultural change is a marathon, not a sprint and CLP's first steps were to build a strong multi-disciplinary change team and identify with them key behaviours that would drive the initiative's goals of increasing customer and employee satisfaction. Change ambassadors were recruited from all areas of the Mobility organisation and are being supported to incrementally role model these behaviours in their daily work, as well as finding and communicating short-term wins in their everyday interactions with customers and colleagues.
The work in the field is strengthened by company-wide communication and trainings measure that complement the key behaviours and the work of the ambassadors. As the change team and the change ambassadors grow in expertise, CLP's change experts retreat more and more into the background to ensure that the change knowledge developed within the organisation stays in the organisation as an add-on for future change initiatives.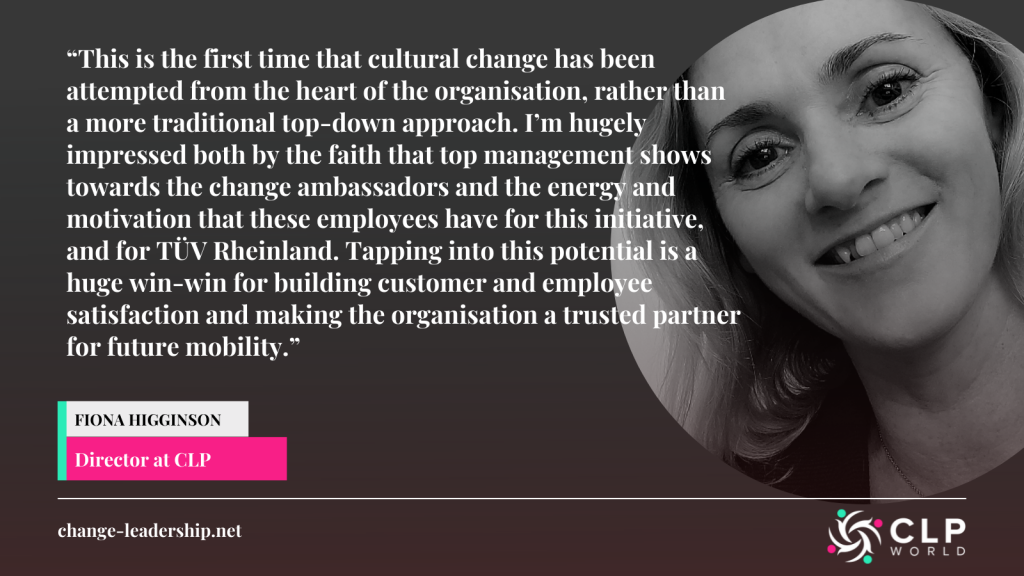 Share this article