Share this article
These 500 words on Leadership Development are for all leaders and managers who are interested in supporting their people through challenging times.
---
By now most of us will have been part of an online, virtual work meeting. They might now feel like part of day to day life if you've already had a few.
What used to be quite an unusual concept for those working in an office environment, has now become the norm. Zoom, FaceTime, Google Meet and Skype now permeate our everyday workplace routine.
Still, there are a few things to pay attention to as your workforce adjusts to conversing and meeting virtually rather than face-to-face. The psychology of any workplace meeting is important to understand, especially with this strange new world we live in, in order to get the most out of them – both for you as a leader and for your team.
The first thing to consider is that poor audio quality or technical difficulties can cause real physical stress to anyone who experiences them. It is fundamental to make sure everyone using the technology understands how to and is able to connect properly and efficiently. We're not all equal when it comes to tech-savviness, so don't hesitate to book a timeslot in your team agenda to test the audio/video set up of everyone and make sure they have access to the right tool. Besides, there are plenty of free guides to help educate those who need a little extra help, so it is worth investigating these to make sure everyone starts the meeting in the right frame of mind.
Any meeting, virtual or actual, works better if there is a clear structure. Make sure you set an agenda before the meeting but then ensure everyone has equal time to contribute, if relevant. Researchers at MIT found two factors that account for 60% of the variance in meeting quality. These are:
Taking equal turns so that everyone gets to contribute their ideas, and
Periods of excited "talking over" chattiness, which consist of side conversations that serve to validate the ideas and build consensus.
The quality of your meeting will be affected by whether you pay attention to the above. If you encourage everyone to contribute, the research found it is 'particularly effective for improving teleconference meetings among geographically distributed groups'.
Most people like to chat; we're a sociable species. However, there is a time and a place for non-work-related chatting. Ensure you give some time at the beginning and end of each meeting for your team to catch up with each other. Consider it a 'water-cooler' break. Once this is out of the way, those attending the meeting should be able to focus more. Don't underestimate the need for your team to connect with each other, now more than ever, but make sure even these catch-up moments fit into the general structure of the meeting – e.g. you can add 5 minutes at the start and end of your 35-minute meeting to round it up to 45 minutes.
Interestingly, emotional displays are contagious. Generally, we mimic the emotion that is on display to us. So, if you want to enthuse your team, then be enthusiastic. If you need to strike a more serious note, due to the nature of the matters being discussed, take a more reserved approach. Yet, even if the meeting is examining serious matters, you still need to pay attention to how positive you are being.
It is all about harnessing the power of positive psychology. Positive psychology is the science of thriving. At the moment, a lot of people are in survival mode. In order to ensure your business continues to thrive in these challenging times, you need to shift this psychology from survival to thriving. Uncertainty and fear can lead to anxiety and depression, which is a real threat in this current crisis. However, positivity has many physical and emotional benefits: that's why you need to be displaying these in your virtual meetings.
And finally, did you know people act differently when they are being watched? You might find that your team 'behave themselves' more during meetings as they can see themselves on camera. Being on camera has been shown to improve employees' productivity and attentiveness – it also helps in taking the bonding experience out of the office.
Whatever your experience, we are here to help. If you would like advice on how to manage your team or lead in this period of crisis and change, please reach out to us at info@clp.world and we will see how best we can assist.
Yours,
Dr. Marcus Gottschalk
CEO at CLP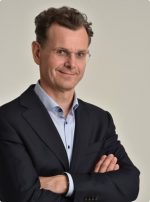 CLP periodically publishes 500 words that reflect our experiences, research and thought leadership. Download your PDF version here.
Share this article