Share this article
How do you lead Leaders?
This was a question put to CLP when we were asked to create a bespoke leadership development programme to help our client's (Junghenrich AG) leaders to achieve the company's growth objectives and strategic 2025+ ambitions.
In response we created Leading Leaders 2021 – a 12 month virtual and blended learning leadership development programme. Unique and customised, it used a variety of interconnected formats, tools and ways to make learning exciting and fit for the target group.
With 100 participants taking part, it was important to break the learning modules up into 20 smaller groups of five participants each, so that each leader was able to get the maximum benefit from each session.
Some of the modules included virtual classrooms for:
Polarities: New Work & Old Work
Systems & Partnerships
Organisational Influence & Networks
Design Thinking
Change Simulation
Passion for Performance
A clever combination of the following learning techniques were utilised in the modules:
Instructor-led virtual classrooms
Virtual classrooms that were interactive and engaging with breakout rooms, whiteboards and annotations, multi-share, virtual seating charts and polling.
Collaborative online tools (e.g. Mural, Miro)
Enhanced online collaboration was achieved by using visual online collaboration tools for planning, brainstorming, design, problem solving and sharing.
Simulations, gamification and interactive team-based scenarios
Motivating and challenging real-life simulations, scenarios and games were used to enrich the learning experience.
Networking
Multiple and changing groups meant there were opportunities for networking and collaboration.
Case studies
Case studies and articles helped focus discussion and problem-solving preferably in asynchronous peer-work.
Getting the right balance for such an extended period of development was key to the success of the programme. And whilst it was an obligatory programme, we were pleased to achieve a very high attendance for the whole year.
As the programme came to a close, we asked for feedback from the participants and, in a creative (and forward-thinking) twist, allowed them to articulate this by designing posters that would help us promote the programme to the next lot of ML Leaders starting Leading Leaders 2022.
Here are some of our favourites: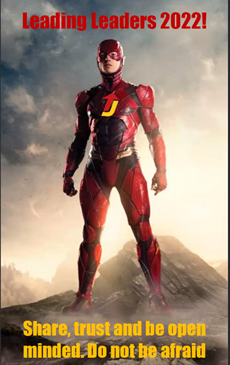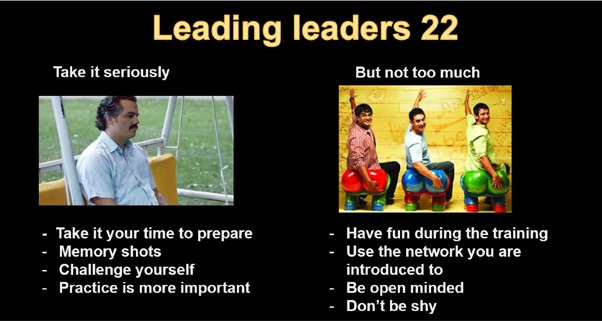 If you'd like to know more about our customised approach to bespoke leadership development programmes, please contact us.
Share this article